Building Alberta
Alberta Infrastructure works with other ministries to ensure Albertans have the schools, hospitals and other public infrastructure necessary to support a strong economy and meet the needs of a growing population.
New Royal Alberta Museum
Watch the recent Global News Edmonton story to learn more about the progress of the new museum and the demolition of the old Canada Post Office Building.
Part 1
Part 2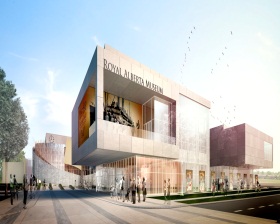 Progress on the new Royal Alberta Museum continues
Alberta Infrastructure honoured by BOMA Calgary
Alberta Infrastructure received two awards at the annual Building Owners and Managers Association (BOMA) Calgary Excellence Awards. "One of our strongest partners in the BOMA BESt program is Alberta Infrastructure. Not only has Alberta Infrastructure attained the largest number of BOMA BESt buildings with 86 buildings certified or in process, it has committed to enhancing its overall environmental performance by taking many of its buildings from Level I certification to Level 2, 3 and some to Level 4," said BOMA Calgary President and Chief Staff Officer William Partridge.
Late payment help
If you've worked on or supplied equipment, material or services for a Government of Alberta project and money is owed to you, the Alberta Public Works Act may be able to help. 
Public Works Act
Public Works Act Claims Information
Public Works Act Claim Form
Premier Redford announces milestone 50th new school
Premier Redford celebrated a milestone in Grande Prairie, sharing with families that they would benefit from receiving Alberta's 50th new school. A new K-9 Catholic school will provide space for as many as 700 students in the city's growing Royal Oaks community.
Click here to watch Premier Redford's announcment in Grande Prairie
This school is in addition to two other new K-8 schools and the modernizations of Montrose Junior High School and École Nouvelle Frontière also underway in Grande Prairie as part of Premier's commitment to invest in school infrastructure.
The new Grande Prairie school marks the last of the 50 new and 70 modernized schools promised to Albertans. These 50 new schools alone will create about 38,000 new spaces for Alberta students throughout the province.
Read more about other school projects currently underway and additional details on modernization projects, as they become available. 

Click here for highlights of previous new school announcments
News
Last updated: Mar 07, 2014 10:53