Building Alberta
Alberta Infrastructure works with other ministries to ensure Albertans have the schools, hospitals and other public infrastructure necessary to support a strong economy and meet the needs of a growing population.
Alberta Infrastructure honoured by BOMA Calgary
Alberta Infrastructure received two awards at the annual Building Owners and Managers Association (BOMA) Calgary Excellence Awards. "One of our strongest partners in the BOMA BESt program is Alberta Infrastructure. Not only has Alberta Infrastructure attained the largest number of BOMA BESt buildings with 86 buildings certified or in process, it has committed to enhancing its overall environmental performance by taking many of its buildings from Level I certification to Level 2, 3 and some to Level 4," said BOMA Calgary President and Chief Staff Officer William Partridge.
New Royal Alberta Museum
Province moves forward with 19 new schools in nine communities
As part of Premier Redford's Building Alberta Plan, government is seeking a public-private partner (P3) to help build new schools in 9 communities across the province.
The new schools will feature advanced systems and features such as large windows that provide natural lighting and ventilation systems that improve air quality and circulation, creating a healthy learning and working environment for students and teachers and the people who use them.
In May, government announced it would invest $503 million over three years to support the delivery of new school projects within Alberta's high-growth communities. The school projects will be provided through a combination of this P3 bundle and traditional methods. The school projects are expected to be completed in 2016, providing more than 18,650 new spaces for Alberta's students.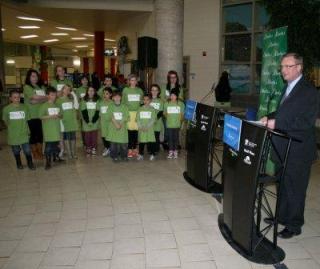 May 2013-Minister of Infrastructure Wayne Drysdale announcing government's $503 million investment into providing much-needed new school projects.
More information on the P3 schools bundle
News
Last updated: Nov 27, 2013 08:42