Federal Infrastructure Plan: Phase Two
Minister Brian Mason and the Honourable Amarjeet Sohi, Minister of Infrastructure and Communities, recently hosted the first federal, provincial and territorial meeting between ministers responsible for infrastructure. The group met to discuss infrastructure priorities across the country, including future work under Phase 2 of
Investing in Canada
, the Government of Canada's $120-billion infrastructure plan.
Capital Plan invests in Albertans, supports jobs and economy
Capital Plan 2016 is a thoughtful, responsible plan. It supports the key social programs and services that government provides to Albertans, encourages economic development, and supports environmental outcomes.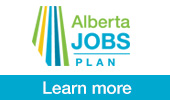 Building and Modernizing Alberta's Schools
In Alberta, about 200 school projects are underway to provide new and modernized schools for families and communities across the province. Follow the progress of school projects underway in your community by visiting projects.alberta.ca.
Royal Alberta Museum Reaches Construction Milestone
On August 16, 2016, the Government of Alberta along with the Government of Canada marked a construction completion milestone of the new Royal Alberta Museum.
A Brandon Elm tree, representing a new beginning for the museum, was planted outside the main entrance.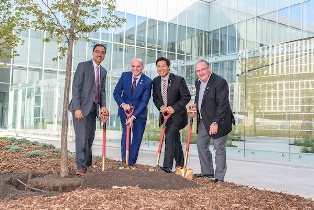 From left to right: Amarjeet Sohi, Minister of Infrastructure and Communities; Randy Boissonnault, Parliamentary Secretary to the Minister of Canadian Heritage and Member of Parliament for Edmonton Centre; Ricardo Miranda, Minister of Culture and Tourism; Brian Mason, Minister of Infrastructure.
While some minor finishing work continues both inside and outside, the facility is at the stage where work can begin inside outfitting the museum's galleries and exhibits.
Infrastructure Minister Brian Mason presented Ricardo Miranda, Minister of Culture and Tourism, with the golden key to the facility.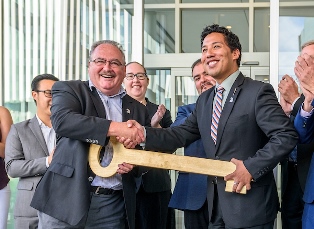 Read the News Release
Learn more about the new Royal Alberta Museum  
News
Last updated: Oct 17, 2016 09:19