Building Alberta
Alberta Infrastructure works with other ministries to ensure Albertans have the schools, hospitals and other public infrastructure necessary to support a strong economy and meet the needs of a growing population.
New Royal Alberta Museum
Watch the recent Global News Edmonton story to learn more about the progress of the new museum and the demolition of the old Canada Post Office Building.
Part 1
Part 2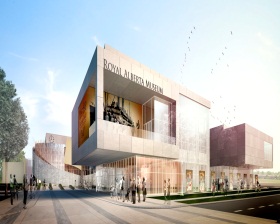 Progress on the new Royal Alberta Museum continues
Alberta Infrastructure honoured by BOMA Calgary
Alberta Infrastructure received two awards at the annual Building Owners and Managers Association (BOMA) Calgary Excellence Awards. "One of our strongest partners in the BOMA BESt program is Alberta Infrastructure. Not only has Alberta Infrastructure attained the largest number of BOMA BESt buildings with 86 buildings certified or in process, it has committed to enhancing its overall environmental performance by taking many of its buildings from Level I certification to Level 2, 3 and some to Level 4," said BOMA Calgary President and Chief Staff Officer William Partridge.
Edmonton LRT Funding Announced
On May 26, 2014 Minister Wayne Drysdale joined Federal Minister of Health Rona Ambrose and Edmonton Mayor Don Iveson to announce funding for the Valley Line Stage 1 Light Rail Transit expansion project in Edmonton. As part of its partnership with the Government of Canada and the City of Edmonton, the Government of Alberta will help finance up to $600 million towards this project including approximately $300 million in
GreenTRIP
funding and up to $150 million to match funding from the
New Building Canada Fund
. Total project cost for the LRT expansion is $1.8 billion.
More photos...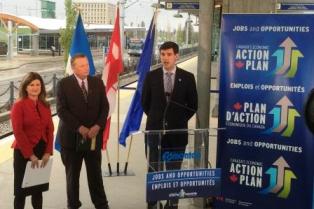 Building Canada Plan
On March 28, 2014 the Government of Canada released information about their New Building Canada Plan to the provinces and territories. The New Building Canada Plan, which continues the previous Building Canada Fund, includes an investment of about $942 million into Alberta infrastructure priorities.

The provincial government, led by Alberta Infrastructure, is working with the federal government to clarify the details about the New Building Canada Plan, specifically around process for submission for our province's infrastructure priorities to meet Albertans' needs and to maximize the value to all taxpayers.

We will provide more information as soon as it becomes available. Once we have determined the process for how the funds will be used, each Government of Alberta department will work with its stakeholders to administer the Plan. Infrastructure Canada has information about the overall Plan on their website at http://www.infrastructure.gc.ca/plan/plan-eng.html  
Late Payment Help
If you've worked on or supplied equipment, material or services for a Government of Alberta project and money is owed to you, the Alberta Public Works Act may be able to help. 
Public Works Act Claims Information

Public Works Act Claim Form
News
Last updated: Jul 31, 2014 11:38