Capital Plan invests in Albertans, supports jobs and economy
Capital Plan 2016
is a thoughtful, responsible plan. It supports the key social programs and services that government provides to Albertans, encourages economic development, and supports environmental outcomes.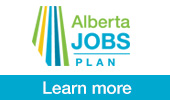 Building and Modernizing Alberta's Schools
In Alberta, about 200 school projects are underway to provide new and modernized schools for families and communities across the province. Follow the progress of school projects underway in your community by visiting
projects.alberta.ca
.
News
Last updated: May 27, 2016 14:14