The Federal Building and Centennial Plaza Project
Renewal of the Federal Building and construction of a new public plaza and parkade will increase public space at the Legislature grounds and provide year-round recreational opportunities for visitors. Design highlights include additional water features and green space, a skating rink and a new west entrance pavilion for the Federal Building. The project will also create options for future redevelopment of the grounds and help kick-start the revitalization of the Edmonton's downtown.
The Federal Building is owned by the Alberta government and is located on the northeast corner of the Legislature grounds in Edmonton, Alberta.
Based on a 1939 design and constructed in the late 1950s, the 10-storey Tyndal stone building is one of the best surviving examples of art deco design in Canada.
Although the Federal Building has been vacant since 1989, work is now underway to restore this important architectural landmark to its former grandeur.
In addition to renewing the Federal Building, government is also constructing a 650-stall underground parkade to replace existing surface parking lots. In their place, a new Centennial Plaza will extend the Legislature grounds north to 99 Avenue to create a scenic terminus to Capital Boulevard.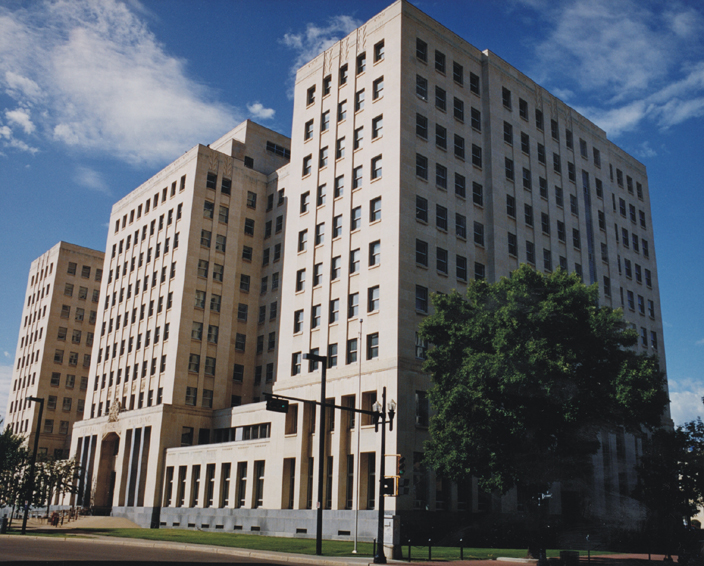 The Federal Building  - Edmonton, Alberta 
Preserving history and the environment
The project will preserve the historic character of the Federal Building, while at the same time demonstrate the government's commitment to sustainable buildings by achieving a Leadership in Energy and Environmental Design (LEED) Gold rating.
LEED Gold Buildings consume 40 to 50 per cent less energy than conventional buildings, produce lower greenhouse gas emissions and use 20 to 30 per cent less water than LEED Silver buildings. They also provide a healthier work environment through improved air quality and use of natural light.
As part of the renovation, the building's envelope and mechanical and electrical systems will be upgraded to improve energy efficiency. Saving an existing building provides its own benefits:
reduced production of replacement materials—means less energy and resources consumed

massive diversion of waste from landfills  
Serving a need  
The rejuvenated Federal Building will:
help government address space pressures

play an important role in the future Legislature grounds development and downtown rejuvenation

save an architectural landmark, replace two parking lots with green space, and provide a welcoming and scenic approach from Capital Boulevard
Facts About the Federal Building  
The Federal Building was built in the 1950s. Located on the northeast corner of the Legislature site, the 10-storey Federal Building is based on a design from 1939. Its art-deco style is rendered in its Tyndal stone façade and opulent marble lobby.
Location: 9820 - 107 Street (northeast corner of Legislature grounds)

Plans to construct the Federal Building were put on hold because of the Second World War

Construction completed in 1958

Architect: George Heath MacDonald

Gross floor area: 33,000 m2

Usable office space: 23,000 m2

Site area: 1.04 hectares

Number of floors: 10

Granite and limestone exterior veneer with wood sash windows

The Federal Building Lobby is one of the best remaining examples of art deco style in Canada:

six kinds of marble

nickel-plated doors

decorative light fixtures and ceiling accents that are uncommon today

the balance of the interior features standard finishes for a 1950s office building, such as lath and plaster

building's exterior features graphical elements that underscore the architect's intent that the building serve as a tribute to early trappers and pioneers

Other examples of art deco style: the Empire State Building and the Chrysler Building in New York

Purchased from Federal government in 1983

Vacant since 1989