Greening Government Strategy
Alberta Infrastructure is a key partner of the Government of Alberta's
Greening Government Strategy –
a government-wide policy that commits Ministries to continuously reducing, in concrete and measurable ways, detrimental environmental impacts that result from government operations and procurement practices.
Greening Government Highlights:
Every year, Alberta Infrastructure formally registers and participates in various national and international environmental awareness campaigns such as Earth Hour, the Commuter Challenge, Waste Reduction Week, and National Sweater Day.

In March 2013, twelve government facilities spread out across five different Alberta communities participated in Earth Hour
In June 2013, Alberta Infrastructure achieved the "most distance traveled by carpool" in the Commuter Challenge

Alberta Infrastructure has a Reward and Recognition program for government staff to recognize each other for Green Behaviours
In 2011, the Government of Alberta received an "R's of Excellence Award for Government Leadership" from the Recycling Council of Alberta for its rollout of the Greening Government Strategy.
In 2013, Alberta Infrastructure staff were awarded "Green Team of the Year" by the World Wildlife Foundation's Living Planet @ Work Program for their work in encouraging sustainability in the workplace.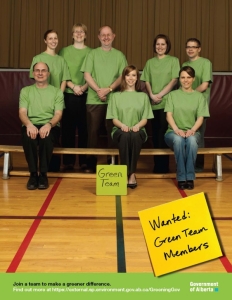 Comparison of the Calgary Court Centre during Earth Hour 2013 (left) versus normal operation (right)