Typical Cross Section of a Transportation/Utility Corridor
There are four major types of utility components within the TUCs:
Ring Road (freeway) and buffer to allow for future widening and/or realignment
Pipelines
Powerlines - 69kV and above
Municipal services (powerlines less than 69kV, stormwater management facilities associated with the Ring Road and regional water, sanitary or storm trunk sewers)
In addition, an access component is designed to maintain access for compatible secondary uses, for maintenance of the existing utilities, and for the installation of primary use facilities.
(For more information please refer to
Primary Uses
and
Secondary Uses
.)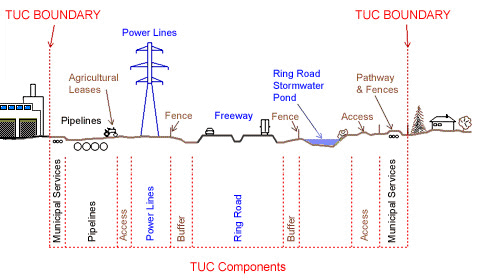 This graphic depiction is conceptual only and is not to scale.
These utilities could be on either side of the corridor.