Calgary Cancer Centre
Calgary Cancer Centre Design Unveiled
A major milestone has been reached in the development of the Calgary Cancer Centre, as PCL Construction Management Inc. has been selected to complete the design and construction of the new facility.
The design of the new cancer centre incorporates and respects the vision and needs of patients and their families, physicians, researchers and other health care professionals together in a single location.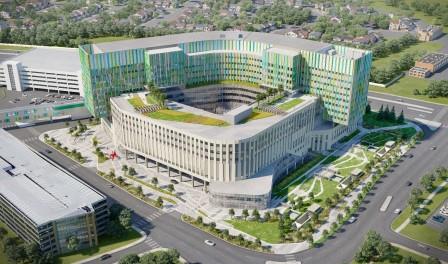 Construction is expected to get underway in late 2017 and the facility will open to the public in 2023.
When completed the new Calgary Cancer Centre will be a leading health care facility and academic centre, that will provide a full range of cancer related services in southern Alberta.
Over the next six months PCL Construction Management Inc. will focus on the next stage of design development and obtaining the required municipal permits that will allow for construction to begin later this year.
Key dates and milestones:
Ground-breaking: Late 2017
Project construction: Late 2017-2022
Operational commissioning for AHS: 2022-2023
Public opening (anticipated): 2023